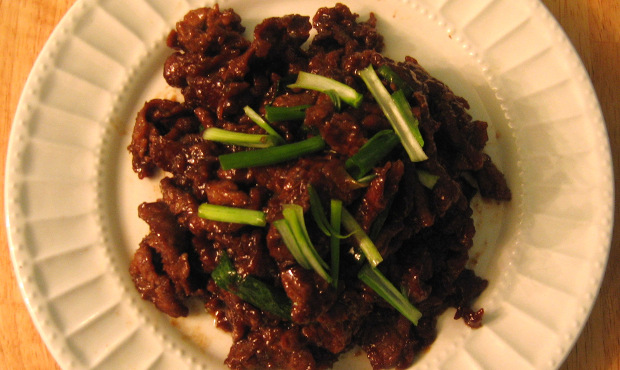 Ingredients
1 lb flank steak, thinly sliced against the grain
¼ cup cornstarch
3 Tablespoons canola oil
5 scallions, cut into 1 inch pieces
For the sauce:
1 teaspoon minced fresh ginger
1 Tablespoon chopped garlic
½ cup low-sodium soy sauce
½ cup water
1/3 cup dark brown sugar
Instructions
On medium-low heat, make the sauce by combining the ingredients (ginger through brown sugar) and stirring occasionally until the sugar dissolves. Bring the sauce to a boil, then remove from heat and set aside.
Sprinkle cornstarch over the sliced steak and toss until the pieces are evenly coated.
Pour canola oil in a large frying pan (or a wok) and heat over high heat. Once the oil is hot, add the steak, quickly sautéing it until browned on all sides.
Add the sauce, mixing to make sure all the meat is coated with the sauce. Add scallions, and cook for one more minute. Serve with rice.